A Gem in New Smyrna Beach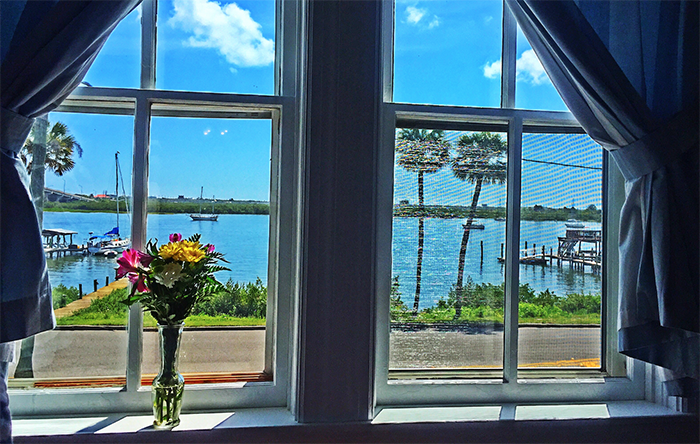 So it's Memorial Day weekend and while Miami is in full party mode. We decided to switch it up and take our talents up north to New Smyrna Beach, Fl.
We usually use AirBnb but we went with Expedia this time. How often do you find a 5 star recommended hotel? Our friend Morgan Moore from Reef Gardener suggested we check out the beaches on New Smyrna Beach, FL. I ended up finding a Bed & Breakfast called The Night Swan. The reviews speak for themselves, so we booked.
Upon arriving the area seemed like a classic southern home town. It wasn't really until we approached to the end of the street and you can see the coast that you start see the beauty. We saw the Night Swan sign and we were home! It's like a small private resort with different rooms and sections. Breakfast is served between 8-9:30am, with lots of room to sit and enjoy some southern cooking. With a great view of the water, and a dangerously cozy bed, we did not want to leave!
The Inn Keepers, Betsy and Matt were great hosts and helpful with everything we needed. We highly recommend checking out New Smyrna Beach which is close by to the Night Swan. Rent one of the golf cars on the beach for $50 for 2 hours. Park right on the sand in designated areas for $10 parking. Just make sure you go early because they don't let vehicles stay on the beach all day, I think it was until 7pm.
We hope you enjoy the pics and we want to tell you that Night Swan Bed & Breakfast Inn, is Good to Go!
Night Swan Bed & Breakfast
New Smyrna Beach Fun Rental
Night Swan Bed & Breakfast
Night Swan Bed & Breakfast
Night Swan Bed & Breakfast
Night Swan Bed & Breakfast
Night Swan Bed & Breakfast