Blackout Tuesday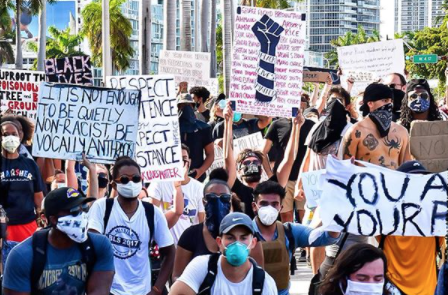 Fewer things have sparked as much controversy as the events that have unraveled after the death of George Floyd in the hands of a Minneapolis police officer. This has re-opened wounds in the United States that have never fully healed and unfortunately continue to be ripped open. The headlines over these past seven days have left many of us concerned and angry. Blackout Tuesday.
The number of activists increased as they marched on Biscayne Boulevard. Through a megaphone, organizers kept asking the people to remain civil and peaceful. Once they reached Overtown, a neighborhood with great historical significance, they were asked to show particular respect. And they complied on Blackout Tuesday.
However, in the evening, as the curfew went into effect, the looting began. Looters attacked several convenience stores, pharmacies, and other shops near Biscayne Boulevard. The Police confronted agitators over Saturday as they started to threw rocks and set vehicles on fire. A total of 28 people were arrested Sunday night, according to Miami-Dade Police. Nearly half the number of arrests that were made Saturday night. An 8pm. citywide curfew that was enforced over the weekend in Miami has been lifted, but a countywide curfew between 9pm and 6am remains in effect.
The people of Miami often think that looting is a drop in the bucket for large corporations, but the truth is, it hurts considerably small businesses. And after all, when the economy goes bad, it hurts us all. For example, a Bike Tech store in Midtown Miami was one of the victims over the weekend, as five intruders grabbed 20 bicycles valued around $100,000. The owner explained she was not mad at the protesters; she was mad at the ones who took advantage of it.
While the COVID-crisis is still impacting businesses all over the country, and an unemployment rate reaching 15% the state of Florida has also suffered, with 1,856,040 people filing for unemployment since March 15.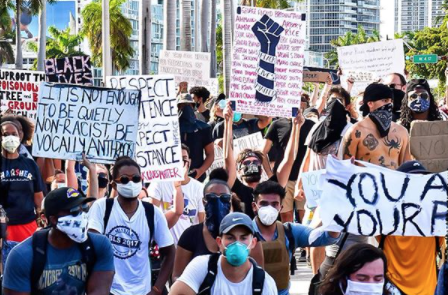 The one of many Florida hotspots, Miami is known for its ample and excellent offer of casual and fine dining, clubs, bars, and everything related to having a great time. Instead, shop owners faced a Monday of sweeping shattered glass and fixing broken windows. Not to mention counting their even higher financial losses.
A sense of "new normalcy" is still blurred by these sparks of violence, in a city where all is music, flavor, culture, and color, there is still just a big question mark instead. As a sign of solidarity a movement has sweeped social media channels, the tag "#BlackoutTuesday" had surpassed 20 million posts. Let's keep in mind the point of today is social justice.
Sign here to join the petition:
https://www.justiceforbigfloyd.com/#petition
Featured photo by @shotsbydre_
---
Thanks for listening. Enjoy. Don't forget to visit our online store by clicking the link : www.Goodlife.miami/mystore.