DJ Rico Sanchez ft J Quezt – URBAN ASSAULT: PLAGUE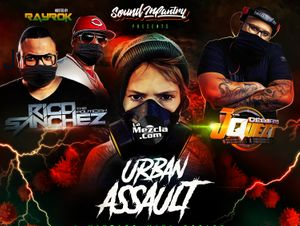 Jam out to the homies Dj Rico Sanchez and J Quezt on their latest quarantine mix! From hip-hop to trap and some new hits, press play and enjoy!
This show features tracks by
Nle Choppa, Roddy Ricch, Dion & Ghostface Killah & Hi-Tek & Raekwon, Her, Bounty Killer, Chaka Demus & Pliers and more.
Upfront tracklists are available with a Select subscription
#hip hop#hip-hop/rap#dancehall#reggaeton#coronavirus
LaMezcla.com & Sound Infantry presents
URBAN ASSAULT " A Mixtape Mini Series"
The Year is now 2020, and a strange sickness emerges in the far east and a global pandemic explodes.People are quarantine and society begins to blog,but food runs short and hysteria breaks out. The population looks for a way to cope but with mainstream media blocking commercial streams people look for the classic idea of spam free music.This brings everyone together through a collective series of underground mixtapes by @djricosanchez based out of Atlanta while others in surrounding cities the likes of Orlando, Tampa and Miami @iamjquezt @djdavebeats @djspeedyjr + @lamezcladotcom
Join for a mixtape mini series stream via lamezcla music app hosted by @rayrokeldobler