III Points Reveals Lineup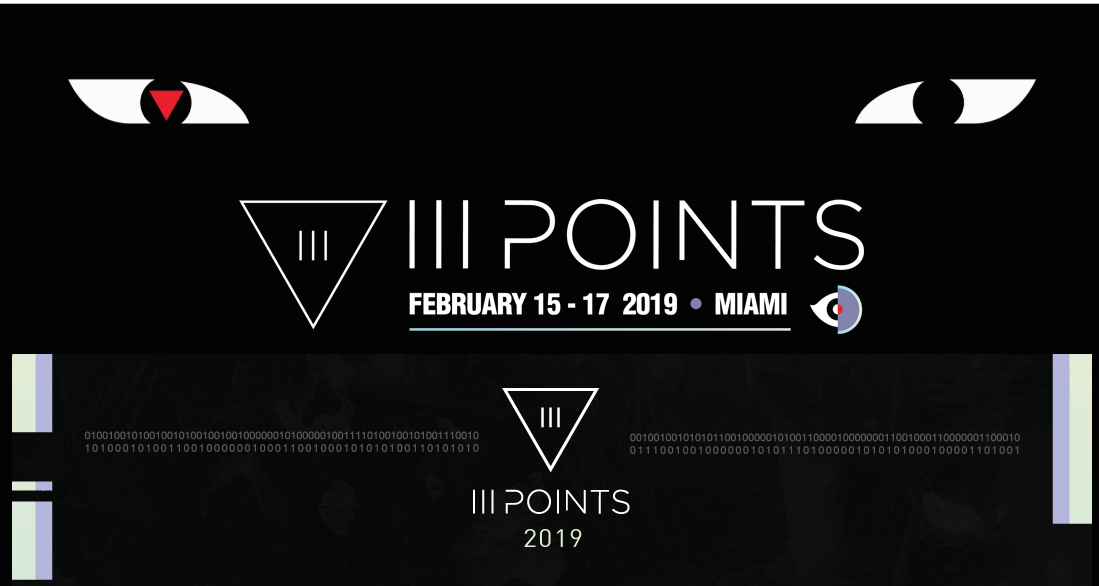 III POINTS
REVEALS DAILY LINEUP
FRIDAY WITH TYLER, THE CREATOR,
BEACH HOUSE, THE INTERNET
SATURDAY WITH SZA, JAMES BLAKE,
HERBIE HANCOCK
SUNDAY WITH A$AP ROCKY, ERYKAH BADU,
BLOOD ORANGE AND MORE
SET FOR FEBRUARY 15-17, 2019 IN MIAMI
SINGLE DAY & WEEKEND PASSES
ON SALE NOW AT IIIPOINTS.COM
MIAMI, FL—December 18, 2018—III Points, which is returning for its sixth and largest installment on February 15-17, 2019, reveals its day by day lineup today. Curated with care, III Points continues its tradition of showcasing artists from across genres and the underground for a distinct festival experience.
The festival will kick off on Friday with headlining sets from Tyler, the Creator and Beach House, plus performances from The Internet, Pussy Riot, JPEGMAJIA, Dean Blunt and late-night club shows with Virtual Self, Peggy Gou, Honey Dijon, DJ Seinfeld and more.
Saturday will see headlining performances from SZA, James Blake and Herbie Hancock. Further highlights of the day include Raekwon & Ghostface Killah, Yaeji, SOB x RBE, Ben UFO b2b Joy Orbison, Mall Grab, Kelsey Lu, Baba Stiltz, Smerz and more.
The festival will wrap on Sunday with headlining sets from A$AP Rocky, Erykah Badu and Blood Orange, plus performances from Khruangbin, DJ Koze, Tim Hecker + The Konoyo Ensemble,Godspeed You! Black Emperor, David August, DJ Stingray, Lena Willikens and more. See below for the full day by day lineups. Tickets are available now via iiipoints.com.
With over 100 musical performers and sets running until 5:00 a.m. each night, III Points blends visual art, film, food and style in Miami's vibrant Wynwood Arts District. In addition to an international and wildly acclaimed lineup, respected curators will present stages of local, rising and experimental music. The festival's visual arts lineup—taking over the 100,000 square foot Mana Wynwood—will be announced in the coming weeks.
III Points is proud to partner with Florida activism network Dream Defenders on a series of initiatives in the coming months. Dream Defenders is a diverse group of young people who build power by organizing and educating for community civic engagement and transformational justice. For more information, or to get involved, visit: www.dreamdefenders.org
III POINTS 2019
Friday

Tyler, The Creator

Beach House

The Internet

Virtual Self

Peggy Gou

Pussy Riot

Honey Dijon

Toro y Moi (DJ Set)

Dean Blunt

JPEGMAFIA

DJ Seinfeld

Moscoman

Jacques Greene

Channel Tres

Marvin & Guy

Auntie Flo

Durante

Goddollars

Nick Leon (LIVE)

Paperwater

Will Buck

Rat Bastard

POORgrrrl

Nicholas G. Padilla

Thunderpony

Bakke

Virgo

Telescope Thieves

Tama Gucci

Dim Past

Pirate Stereo

Dracula

True Vine

Goiz

Ackdaddy

Adobo

Saki

Karina

Saturday

SZA

James Blake

Herbie Hancock

Raekwon & Ghostface Killah (Performing "Only Built 4 Cuban Linx")

Yaeji

Ty Segall & White Fence

SOB x RBE

Ben UFO b2b Joy Orbison

Masego

Mall Grab

Kelsey Lu

John Maus

Laurel Halo

Keinemusik (&ME, Adam Port, Rampa)

Baba Stiltz

Smerz

PNTHN

Trill Sammy

Ms. Mada

Plastic Pinks

Danyelino

Austin Paul

Nii Tei

Donzii

INVT

Haute Tension

Brother Dan

Ghost Flower

Loka

Ascendants

Eveava

LTENGHT

Kamari Esson

JBZ & Anthony Estrada

Kind Sugi

Carter Jackson-Brown

Sunday

A$AP Rocky

Erykah Badu

Blood Orange

Khruangbin

Godspeed You! Black Emperor

DJ Koze

Mariel Ito b2b Danny Daze

David August

Tim Hecker + The Konoyo Ensemble

DJ Stingray

YokoO

Stavroz

Egyptian Lover

Be Svendsen

Lena Willikens

VHS Collection

Steven A. Clark

AAAA (LIVE)

Bear

Jaialai

Anshaw Black

TWYN

Bird Feet Bird

Seafoam Walls

Lilith

Butterfly Snapple

Manumat

Rick Moon

Kumi

YNOT

Apache

Deroboter

Maccabi

Neopolitan

Sister System

Jonny From Space
Stages by: Omnidisc, Keinemusik, Disco Halal, Link Miami Rebels, Electric Pickle 10 Year Showcase, Extra Credit, Castaway, Internet Friends, Space Tapes
ABOUT III POINTS
III Points is an alternative music and art festival in Miami's Wynwood neighborhood. The festival, which was founded by four friends in 2013, arose as a means to represent and unite a unique and diverse community. III Points is a platform that showcases Miami's up and coming music acts, along with local artists from many disciplines, by placing them alongside the greatest musical and artistic minds in the world.
In loving memory of Lauren Perlstein.
Facebook: fb.com/iiiPoints | Twitter: @iiiPoints | Instagram: @iiiPoints | www.iiipoints.com
#iiiPoints
For more information, please contact
Reid Kutrow or Carla Sacks, 212.741.1000 at Sacks & Co.
[email protected] or car[email protected]
For local Miami press, please contact
Woody Graber, Cyndi Putnam or Travis Acker
[email protected], cyndi@loudmouthlive.com or travis@iiipoints.com