Julying Miami style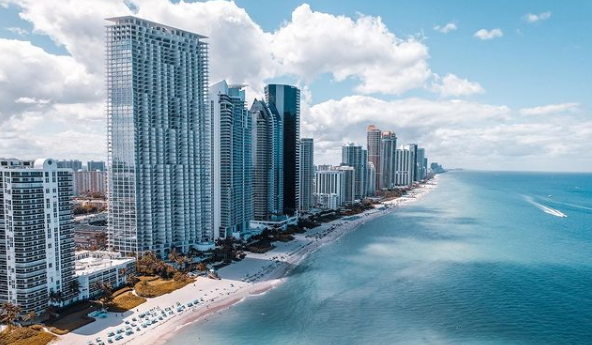 Are you feeling the humidity yet? Miami welcomes the afternoon showers that typically fill our July days -a relief from the scorching sun that only means one thing: it's summer in Florida!
Thankfully, our city has lots of waterparks and reefs, and our beautiful beaches are an oasis to the blistering weather that accompanies this month. 
Before we give you a few pointers on what to do this month, let us ask you something. Why don't you do something different this summer? How about behaving a little bit like tourists? New Yorkers have never been to the Statue of Liberty, Californians have never visited Disneyland, and people from Montana have never gone to Yellowstone! Let's take advantage of the fantastic amenities Miami has to offer; in case you've never done anything like this, try one of these out:
• Take the 90-min Cruise of South beach Millionaire homes and Venetian Islands to enjoy Miami's skyline. (fees start at $32.99). Miami Skyline 90-min cruise departs from Biscayne Bay in the heart of Downtown. Pass the famous Star Island is known for Al Capone's Mansion. Cruise to Millionaire's Homes Hibiscus Island, Palm Island, Sunset Island, Fischer Island, plus famous Venetian Islands. Discover the mansions rich and famous. You haven't seen Miami until you've seen it from the water. Read more about the Miami Skyline 90 min Cruise of South Beach Millionaire Homes & Venetian Islands. You can purchase your tickets at TripAdvisor, Expedia, or any tourist spot. 
• Take the Everglades airboat ride. (Tickets from $39.99) Overview: Capture the Florida Everglades' wild spirit with this excursion from Miami. Zoom over the 'River of Grass' on an open-air, flat-bottomed vessel while your guide talks about the complex swamp ecosystem. Wander the farm's jungle trails and see gators in their natural habitat. Interested? Click here for more
info: https://evergladesactivities.com/everglades-national-park/airboat-
tours/?gclid=Cj0KCQjw2MWVBhCQARIsAIjbwoMybH2ziHmH0hFFxEoGAQnq
JlrxZLi9gVQ4ZPbccKIohLHzxFlqKhYaAknUEALw_wcB
• Miami to Key West Day trip. (Tickets from $39). Enjoy an independent afternoon or get out on the water with optional activities you can add upon booking, including snorkeling, parasailing, and a glass-bottom boat tour. With someone else to do the driving, you can focus on the spectacular coastal scenery as you cross 34 islands and 42 bridges. For tickets and more info, you can click here: https://www.thekeywestexpress.com/?gclid=Cj0KCQjw2MWVBhCQARIsAIj
bwoObktGD0ydZpoEf81-SOnhxiK9UYRB94gzO_30OBu3ojQ5T-
DOMgXEaAuINEALw_wcB

Want to escape the sun and try some indoor activities?
• Ice Age Giants Exhibit. (Until November 2022). Take a step 10,000 years into the past to see some animals that roamed the earth at the Mammoths: Ice Age Giants Exhibit. This immersive experience will feature skeletons, skulls, and teeth of mammoths and other ancient animals, as well as the opportunity to hear information from lead researchers. Tickets are $29.95 for adults, $24.95 for kids ages 4-11, and free for children three and younger. Tickets can be purchased online here https://www.frostscience.org/exhibition/mammoths-ice-age-giants/.

• Florida Supercon (July 08 -10) Join Florida Supercon as it brings together some of the most famous fandoms in the world. There will be celebrity appearances and guests who are experts on superheroes, comics, science fiction, cartoons, video games, and more. If you want to geek out at the Florida Supercon, get your tickets here: https://www.floridasupercon.com/

HAPPY BIRTHDAY, AMERICA!

We can't mention July activities and not bring up our Independence Day. There are tons of activities, plans, and parties. We personally like this one:
• Fire on the Fourth Festival (July 4). This family-friendly festival combines food trucks, fireworks, and loads of live music to celebrate the birth of America. There are play areas for kids and plenty of entertainment for all ages that will keep you happily occupied until the epic fireworks display at night. Admission is free. Click here for directions: https://www.miamibeachfl.gov/events/fire-on-the-fourth/

Summer is here. Take our advice: eat a hotdog, watch the fireworks, go to the beach, sip on
ice-cold lemonade, take a nap… wear lots of sunscreens. Enjoy living in the greatest country
in the world!
featured photo by: @videomaxmiami