Love is in the air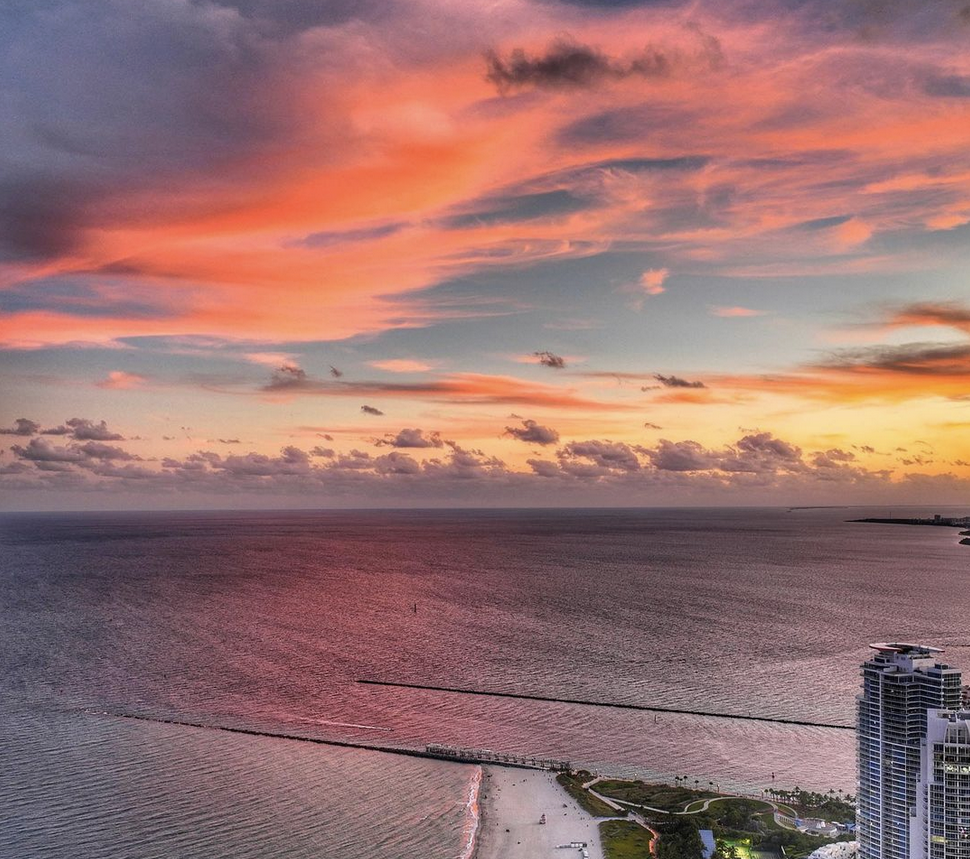 Valentine's Day 2023
As Jerry McGuire famously said: "We live in a cynical world.." and we couldn't agree more. The world has tried to convince us that other forces are the ones spinning the planet, but you want to know something? It is still love the strongest force of all! Call us corny, outdated, naïve, but love, and caring feelings can beat any kind of ordeal life presents us. Wanna know some inspiring facts?
• Love can cure physical pain. Scientists agree that a simple hug can regulate our hormones and reduce blood pressure.
• Relationships have a positive impact in our personalities; meaning the highlight our traits.
• 1 out of 10 marriages is based in love.
So don't let society trick you! We pretty much enjoy sharing our lives with our significant ones. Where is all this going? You've guessed it! We have some fun, romantic, cute ideas for you to spend the upcoming Valentine's day in the Miami area!
Take a sunset cruise through Biscayne Bay.
Let's face it, taking a 90-minute sail around this beautiful bay will marvel you and your partner; and watching the sunset get down is the cherry on top of the pie. You can have snacks and beverages from the onboard bar while taking in the spectacular sunset views of the Miami skyline. If you and your partner love to laze around, this is an ideal way to spend Valentine's Day together. Info here: https://www.biscaynenationalparkinstitute.org/park-after-dark-evening-bay-cruise/

Feeling a little bit like a daredevil? How about you try Parasailing hand-in-hand in Biscayne Bay. Parasailing is one of the most thrilling and exciting activities that everyone should try at least once in their lives. It's even nicer if you can be up in the air with your loved one and hold hands. The pair enjoys a smooth trip above the lake at the height of 125 meters (about 400 feet), from where they can view most, if not all, of Miami. Info here: https://www.viator.com/tours/Miami/Parasailing-with-Miami-Watersports/d662-5503P10

Enjoy the Duck Tour of Miami together. The amphibious vehicle that will take you on the world-famous Duck Tour is both – a bus and a boat. The Duck tour is an ideal way to get cozy with your boyfriend or girlfriend even as you learn about the fascinating city of Miami. Book your tour here: https://ducktourssouthbeach.com/

Candlelight: Valentine's Day Special ft. "Romeo and Juliet" and more! Whether you're looking for a beautifully romantic getaway for you and your partner or a unique classical concert, this show featuring romantic classical favorites is for you. Enjoy a night out at one of Miami's most exclusive hotels where you will be surrounded by the flickering of candlelight creating a magical atmosphere. Prepare to be taken into the clouds with these most treasured masterpieces! Want tickets? Click here https://feverup.com/m/107117
Leaning towards something more relaxing? Love The Zen: Spa Treatments, Meditation & More If your "love language" is self-care, take advantage of Miami Health & Wellness Months from February 1-March 31, when hotels and spas in Greater Miami & Miami Beach offer wellness activities and treatments at a discount. Take a soothing couple's massage and enjoy the day! Info here Miami Health & Wellness Months

Speaking about doing something relaxing…Couples who meditate together stay together. Sign up for the Share The Love event at the 1 Hotel South Beach on Monday, February 14, where you and your partner will enjoy a heart-opening meditation and sound experience meant to deepen your relationship. Couples will sip wine as they're guided to write each other a love letter. Interested? Click here 1 Hotel South Beach
The quintessential celebration is having a romantic dinner.
If a memorable meal is the way to your loved one's heart, make a reservation at one of Miami Beach's best restaurants. Here are some of the best restaurants: Miami Beach's best restaurants

Family Celebrations
For many couples, it's just as important to include their kids in Valentine's celebrations. Spend a day the Phillip and Patricia Frost Museum of Science in Downtown Miami, where kids can run free from floor to floor, falling in love with marine life and science exhibitions. On Sunday, February 13, they can attend a special Mini-Me Science: My Amazing Body event, where they'll learn about the human body. Info here: Phillip and Patricia Frost Museum of Science
Other ideas can include a beach picnic -after all we are famous for our gorgeous white sand beaches – trying a hot air balloon ride, and much more. Don't waste the day, don't spend Valentine's complaining about marketing. Use it as an opportunity to surprise your partner, buy some flowers, fall into the cliché's, enjoy life and love. we only live once!
Featured photo: JasonMac on Instagram