Prism: Culture Guide March 1st – 15th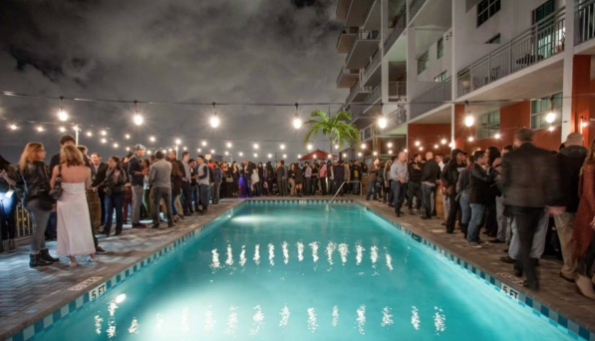 As posted in Prism Blog:
We can all agree that Spring is already upon us since Winter technically never happened this year. Don't get us wrong, this noticeably less humid weather does call for some serious rejoicing. And while some of us may take the libations pretty far, Miami's got a whole spectrum of fun things to do, from reggae concerts and gallery openings, to intimate jazz sessions and meditation classes. Take a look at your social calendar, below:
Wednesday, March 1st:
Jazzy Stars – Kick back with a craft cocktail or bottle of wine with the tribe and enjoy the best funkified jazz the city has to offer under a canopy of stars.The perfect humpday jam- Lemon City Trio kicks it with their eclectic upbeat beats rooted in oldskool New Orleans funk and jazz riddled with hip hop and R&B.
Where: ACME Lounge – 70 NE 17th ST. When: 8PM – 11PM. Tickets: Free.
Thursday, March 2nd:
Project 305 Jam – New World Symphony wants to make a city symphony out of Miami's sounds, and they need your help. And to help light the fire Project 305, they're hosting Culture Jam — a mini jam fest featuring some of Miami's finest musical minds to inspire your recordings. The results will be used in a final musical and video work that'll be debuted in October 2017.
Where: CIC Miami – 1951 NW 7th Ave. When: 6PM – 8PM. Tickets: Free w/ RSVP.
Rooftop Unplugged – Magic washes over the city skyline at the Filling Station Lofts for the crowd-favorite concert, Rooftop Unplugged Sessions! Now back for a slammin' 2017 season. Take in an intimate performance by Cape Coral's own, Soulixer. Enjoy handmade sips to drink in the soothing sounds and breathtaking views of the city. RSVP Required as space is limited. Please arrive on time.
Where: Filling Station Lofts – 1657 N Miami Ave. When: 7:30PM – 9PM. Tickets: Free w/ RSVP.
Flamenco Festival – DIRECT FROM SPAIN! Experience breathtaking performances by an array of international stars at the 10th annual Flamenco Festival Miami. Be dazzled and astonished by the remarkable artists who will be featured on the Arsht Center's stage.
Where: The Adrienne Arsht Center – 1300 Biscayne Blvd. When: 8PM, March 2nd – 5th. Tickets: Get em here.
Friday, March 3rd:
Okeechobee Music Festival – Okeechobee Music & Arts Festival is a 4 day surreal experience, filled with multi-genre music, immersive art and transformative events, deep in the heart of Florida's wild wilderness. A gathering of all walks of life where the common ground is music, magic and mystery from dusk til dawn.
Where: Sunshine Grove, 12517 NE 91st Ave. Okeechobee, FL. When: March 2nd – 5th. Tickets: Get em here.
First Annual YardFest Weekend – Bring the whole family and (well-behaved) pets back out to The Yard to savor a weekend of amazing live music, food and drink, events, pop-ups and more. Day party goes on into the night with free shows by Suénalo, The Legendary JC's and more to be announced soon. Free admission to all events unless otherwise noted.
Where: The Wynwood Yard – 56 NW 29th ST. When: 4PM – 12AM, March 3rd – 5th. Tickets: Free.
Miami Film Festival Opening Night – Party with Richard Gere for the opening night of this year's Miami Film Festival featuring a showing of "Norman". Norman's astonishing cast includes Michael Sheen, Charlotte Gainsbourg and Steve Buscemi, but it's Gere, never better, who draws us close and keeps us guessing. Plus, enjoy a dinner at the historic Alfred Dupont building for champagne after the movie.
Where: Olympia Theater – 174 E Flagler ST. When: 7PM – 11:30PM. Tickets: Get em here.
Pulse: Dance Music – Let's dance! Join the New World Symphony, DJ Le Spam and the Spam Allstars and the Rosie Herrera Dance Theatre for #NWSPulse, where the New World Center transforms into a late-night lounge complete with club-style lighting and videos.
Where: New World Symphony – 500 17th ST. Miami Beach. When: 9PM – 12AM. Tickets: Find out more here.
Saturday, March 4th:
Veuve Clicquot Carnaval – The unique daytime event will welcome guests to participate in the electrifying spirit of the international celebration with traditional Carnaval entertainment, featuring samba dancers, drummers, and live music. Some of the city's most popular food trucks will also be stationed throughout the event grounds with delicious food offerings.
Museum Park – 1075 Biscayne Blvd. When: 1PM – 6PM. Tickets: Get em here.
Raddest Craft Fair – Spend a breezy Saturday awakening your inner child with a complete lineup of innovative and hands-on workshops that will bring out the budding creator inside of you. We'll be bringing every type of craft under the sun from watercolor, to calligraphy, macrame and more. Plus, enjoy live music by charming local songwriters.
Where: The Wynwood Yard. When: 4PM – 7PM. Tickets: Free w/ RSVP.
Angklung Music Festival – The Kampong will be hosting several Indonesian artists, part of VIDA (Voices of Indonesian). Sponsored by Voice of Indonesians in Florida, the Consulate General of The Republic of Indonesia, Miami-Dade Department of Cultural Affairs and the Cultural Affairs Council and the Miami-Dade Mayor and Board of County Commissioners, this event brings world-renowned performers and artists to Coconut Grove.
Where: The Kampong – 4013 S Douglas Rd. When: 6PM. Tickets: email – [email protected].
Sunday, March 5th:
305 Day Block Party – As founders of Miami's official coffee break time at appropriately 3:05 p.m., they began celebrating March 5th as "305 Day" in 2013, which has become a quintessential Miami tradition. The holiday celebrates all things Miami, and this will be 3:05 Cafecito's biggest party yet. Come celebrate cafecito and community as they unveil new murals in the Leah Arts District.
Where: 1501 East 10th Ave, Hialeah. When: 2PM – 8PM. Tickets: Free w/ RSVP.
Namaste 305 – That's right, join Green Monkey for a community power yoga class taught by Lizzett Chiappy, one of the "25 Miami Fitness Trainers You Need to Follow in 2017," followed by a soothing crystal bowl by Nikki McGowan and yummy treats by some of Miami's favorite eateries including Whole Foods, Jugofresh and Madruga Bakery. Lululemon will be there as well.
Where: Riviera Park – 6611 Yumuri ST. When:10:30AM – 12:30AM. Tickets: $10 Suggested Donation.
Magic City Soul Club – Join ACME Lounge for the first installment of Magic City Soul Club with DJ Ackdaddy. The all vinyl party will showcase your favorite soul, R&B, funk and blues tracks. Discounted specials include: $6 wood fired Margherita and pepperoni pizzas, $6 PainKillers, Rose, Sweet Fire & The Pickle Back, $4 beers.
Where: ACME Lounge. When: 6PM – 11PM. Tickets: Free.
Monday, March 6th:
Sit with Intention – Join Miami's senior meditation teachers as they lead you in an intimate journey inward using 7 chakras-inspired intentions and modern Mindfulness techniques. The 8-week program includes weekly meditations, mindfulness tips, events, and more.
Where: The Modern OM Loft – 1749 NE Miami CT. When: 6:30PM. Tickets: Apply here.
Wednesday, March 8th:
Danay Suarez Album Release – Join the award-winning international artist, Danay Suarez as she performs a celebration for her new album: "Palabras Manuales". Transforming the Brickell cabaret into a one-night arena, get to know her new music in a magical light.
Where: El Tucan – 1111 SW 1st Ave. When: 8PM – Midnight. Tickets: Find out more here.
Thursday, March 9th:
MemoryLab Opening Party – HistoryMiami Museum, the Lynn and Louis Wolfson II Florida Moving Image Archives at Miami Dade College, and Obsolete Media Miami OMM are proud to partner on MemoryLab, a gallery-based "laboratory" for exploring the concept of memory. Using the collections of their three organizations, artists are creating new work for this innovative lab. Join HistoryMiami for drinks and appetizers as they open this can't miss exhibition.
Where: HistoryMiami Museum – 101 W Flagler ST. When: 6PM – 8PM. Tickets: Free w/ RSVP.
Batuke Samba Funk – 2nd Thursdays, come dancing at the North Beach Bandshell. They are in the midst of a six-month Samba Series, in partnership with Soul Premium Cachaca and RejuvChip. Admission is free (suggested donation of $5 at the door), all ages are welcome, and you will be dancing with you under the stars to the award-winning Brazilian band.
Where: North Beach Bandshell – 7275 Collins Ave. When: 7PM – 10PM. Tickets: Free.
Nu Deco Ensemble – Miami's own Nu Deco Ensemble gets a Latin twist for Global Cuba Fest 2017! Special performances by Dayramir Gonzalez and Danay Suarez culminating in awe-inspiring world premiere orchestrations and a tribute to the tropical island by Sam Hyken himself: Danzas Cubanas plus, a Florida Grand Opera collaboration with guest soprano, Elena Galván.
Where: Light Box at Goldman Warehouse – 404 NW 26th ST. When: 8PM, March 9th – 11th. Tickets: Get em here.
Friday, March 10th:
MISO Pop-Up at Palm Court – Join The Miami Symphony Orchestra (MISO) and the Miami Design District for their FREE pop-up concert in Palm Court featuring special guest Emily Estefan. The unique live music experience conducted by Eduardo Marturet featuring a great selection of classical-crossover music by a handful of talented artists.
Where: 140 NE 39th ST. When: 5PM – 8PM. Tickets: Free w/ RSVP.
Jitney Books Launch – In partnership with Books & Books and Miami Book Fair, we are pleased to announce the launch of Jitney Books, a new micro-publishing press committed to bringing local stories to life through Fiction and Memoir. Join them as this year's crop of Jitney authors and artists mingle to celebrate their new catalog for a fun night filled with interactive surprises.
Where: Books & Books & Bikes – 2602 NW 5th Ave. When: 6PM – 8PM. Tickets: Free w/ RSVP.
Bakehouse Art Complex 30th Anniversary – Join the Bakehouse in celebrating 30 years of art-making in Wynwood. The evening includes: Bites, cake, bubbly and more! Live music, an Art Raffle, Opening Reception for "Wild Oasis" by Jacqui Roch, and Tours of Baking History: Past-Forward At Wynwood's True Artistic Pioneer. All proceeds benefit the Bakehouse Art Complex and will enable them to keep serving Miami's arts community for the next 30 years and beyond.
Where: Bakehouse Art Complex – 561 NW 32nd ST. When: 7PM – 11PM. Tickets: Get em here.
Saturday, March 11th:
RadioFest – Celebrate over 100 years of the technology at the core of communication and connection in the modern world! The Wolfsonian partners with WLRN Public Radio and Television and The New Tropic to bring you a full day of radio-inspired fun and learning including live talks, workshops, performances, and interactives.
Where: The Wolfsonian-FIU – 1001 Washington Ave. When: 10AM – 9PM. Tickets: Get em here.
UnderLounge – Join Friends of The Underline YPO for a free festival celebrating biking and community! Live music performances by grammy-nominated Afro-cuban Funk band, PALO! UnderBeats will show the potential of the future Underline and the planned UStage. Food, Live art, fitness classes, handmade drinks and more.
Where: Brickell MetroRail Station – 1001 SW 1st Ave. When: 12PM – 4PM. Tickets: Free.
9 Mile Festival – The 9 Mile Music Festival began in 1993 as a brain-child and testament of love for Cedella Marley Booker in memoriam of her son, Bob Marley. Formerly known as Marley Fest and The Caribbean Music Festival, the event has been renamed for the village of his birth, the place that lies at the heart of their family.
Where: Historic Virginia Key Beach. When: 1PM – Midnight. Tickets: Get em here.
Carnival of Sounds – Miami Girls Rock Camp presents CARNIVAL of SOUNDS, 3rd Annual FUNDRAISER! Join them for a fun-filled, all-ages, family-friendly event at The Wynwood Yard. This year they're showcasing a variety of music, games, interactive workshops by SOUL Sisters Leadership Collective, delicious food, and TONS of great RAFFLE PRIZES from awesome donors.
Where: The Wynwood Yard. When: 12PM – 6PM. Tickets: Free (Donation Suggested).
Sunday, March 12th:
5th Annual Vintage Auto Show – Car enthusiasts of all ages can enjoy a variety of vintage cars from 1959 and older. Children can participate in a scavenger hunt using photo clues to identify a selection of vintage automobiles. There will also be Pinewood Derby Race Car races throughout the day where children can bring their own car to race on the tracks.
Where: Deering Estate. When: 10AM – 3PM. Tickets: $12 for adults, $7 for kids at the door.
Reggae Sundays – Enjoy everyone's favorite Sunday jam with live music from Jahfe celebrating their album release and anniversary. 2nd Sunday is all vinyl with Kulcha Shok & Peppabox.
Where: The Wynwood Yard. When: 2PM – Midnight. Tickets: Free.
Full Moon Night Swim – Get your hands on some goodies and shop pop-ups before Sunday's full moon. Up your style game, sip Shaker cocktails and go for a dip in the pool after dark.
Where: The Broken Shaker – 2727 Indian Creek. When: 2PM – 7PM. Tickets: Free.
Wednesday, March 15th:
Sip of Science – Sip of Science is a monthly lecture series held every third Wednesday and hosted on the Miami Science Barge. Enjoy discussion and drinks with a talk that makes you think. This month's speaker is Gary Bremen, Biscayne National Park Ranger, and member of Bizarre in Biscayne that studies the unconventional wildlife that calls our National Park home.
Where: Miami Science Barge. When: 7PM – 9:30PM. Tickets: Get em here.