The Experience at SOBEWFF by DubbsnGabbs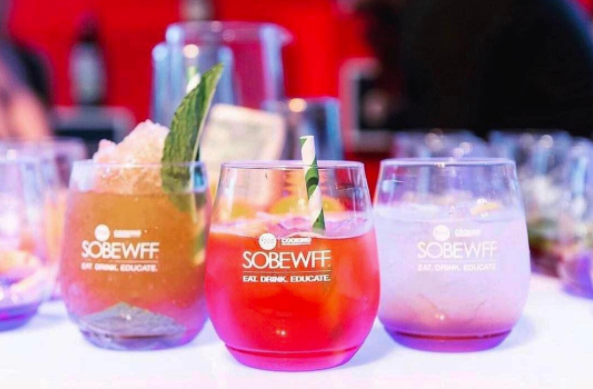 Heineken Light Burger Bash
What better way to spend your
Friday
evening than tasting a variety of unlimited burgers! Were not talking about your traditional cheeseburger (which are not bad), but burgers made from some of the top chefs in Miami as well as known chefs around the world like last years winner, Iron Chef Morimoto. Burger Bash is one of the biggest events during SOBE Wine and Food Festival where local and national restaurants come to compete for the chance to have their burger called the best. Every year each restaurant displays a new signature slider introducing it's audience to new mouthwatering flavors and delights. This year was no different.
Some local Burger Bash winners from previous years were also present like, Pincho Factory and Shake Shack. Other contenders included, STK, Prime 112, and Pub Belly among others. Of course fluids were needed to bring down all the food being devoured. Burger Bash also included unlimited wine, Heineken beer, and Coca Cola drinks. Every meal needs a sweet dessert to top off the night which was provided by local bakery Night Owl Cookie Company as well as ice cream cookie sandwiches. This years turn out has been it's biggest yet with a larger audience including celebrity appearances from Ayesha Curry, Rev Run, Adam Richman and Emilio Estefan among others. A live band provided the entertainment for the night. At the end of the evening the best burger was announced and this years winner was JR's Gourmet "That Guy's Burger" of Miami Springs.
Overall, the event gave a great atmosphere and enough food to keep you in coma for a week. The host, Rachel Ray once again was the organizer for the 11th year in a row and continues to be successful for years to come.
---
Bacardi on the Beach with Beats by Rev Run & DJ Ruckus
You could never go wrong when you have one of the greatest of all time in the hip hop world like Rev Run from Run DMC hosting a party. This year Bacardi made it's debut at the SOBE Wine and Food Festival by throwing the biggest Saturday night party right on the beach with Rev Run and DJ Ruckus. It was nothing but good times, with good food and definitely good music. Once again Miami displayed some of it's hottest chefs with
midnight
snacks to keep you energized, while Bacardi provided unlimited cocktails to keep you dancing.
This is definitely one event we recommend! Although SOBE Wine and Food Festival is over for this year, don't dismay, they will be back. In the meantime, check out some of the local restaurants who participated in the event. That should keep you occupied until next year and make sure to follow our Instagram and Facebook page for restaurants we visit in our home town.
Save the dates!
#SOBEWFF Wine and Food Festival
will return
February 21-25 2018
. As we've mentioned before, these events are one of the many reasons why Miami is a great place to visit. There is always something to do, new places to visit, or new foods to try!
– DubbsnGabbs // For the foodies and travel junkies of the world
See more with the hashtag #SOBEWFF #BurgerBash #Wearethenight