Where can we see Fireworks?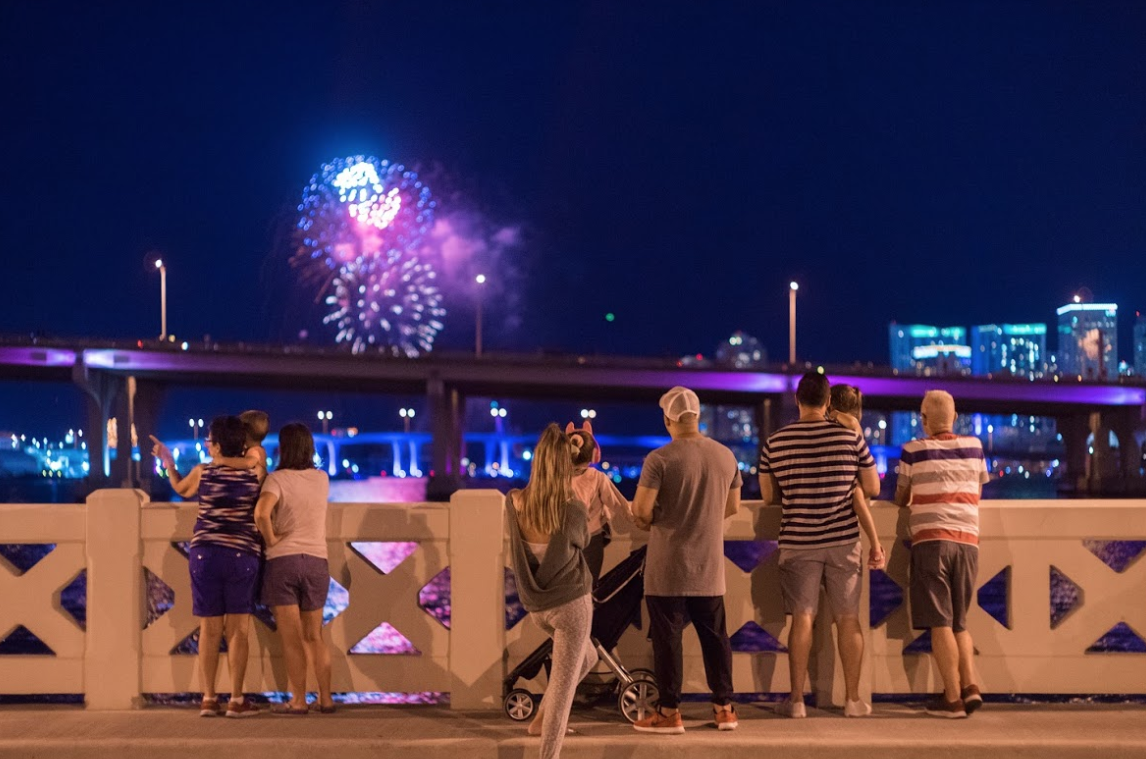 Where to watch the Fireworks in Miami and Fort Lauderdale areas on the 4th of July?

Summer is unquestionably here, and that time of the year yearned by every American is around the corner: 4th of July. And if there's a place that knows how to celebrate the Independence as it should is Miami.
Now before you prepare your flashy blue, red and white attire, and make the Grocery list –must include beer and hotdog ingredients- you may want to check out these spots if you want the best seat to enjoy the quintessential firework display that night. Here's just a handful of the very best at Miami and Ft. Lauderdale areas:
Miami Beach. There is no way we could've started the list without suggesting the beach first. The celebration begins early in the morning – 9 am for early arrivers- with live music, free yoga classes and a wide variety of food trucks. The fireworks start at 9pm at North Beach Bandshell. As you can imagine, this is an incredibly popular spot, get there early. Collins Avenue at 73rd Street, Miami Beach; miamibeachfl.gov.
Bayfront Park. Downtown Miami is ready for some serious America's Birthday celebration and hosts one of the largest fireworks displays in South Florida. The park opens at noon, and the fireworks start at 9 pm. You can expect lots of activities for the kiddos, mouthwatering food, live music, and a beer garden. 301 N. Biscayne Blvd., Miami; bayfrontparkmiami.com.
Las Olas Boulevard. "Nothing like you've ever seen" is what Ft. Lauderdale is promising visitors and natives, this next 4th of July. The place will be packed with fun, including live bands, a kids zone –including water slides and bounce houses- beach games and their famous hotdog-eating contest. The celebration will run from noon to 9:30 pm. Fireworks will begin at 9 pm. 3 E Las Olas Blvd Fort Lauderdale, FL 33301, USA https://lasolasboulevard.com/
Coconut Grove's Picnic. If you're more in the mood for something relaxing and laid back, this celebration has everything you need: live music, a picnic in Regatta Park and a compilation of patriotic-inspired activities for the whole family. After the fireworks –at 9 pm- you can continue the party at the cocktail lounge inside the Ritz-Carlton Coconut Grove for an after party toast. 2820 McFarlane Rd., Coconut Grove; coconutgrove.com.
Key Biscayne's 4th of July Parade. A party is not truly a party unless it includes a parade, at least in the States. Join the 59th annual parade on Crandon Boulevard –which will start at 11 am. Enjoy your stay afterward at the key. At 9 pm sharp a fantastic display of fireworks will be visible basically anywhere with a view of the Atlantic. Crandon Boulevard from Harbor Drive to West Enid Drive, Key Biscayne.
Pick your favorite spot, arrive early, get in the mood to celebrate and be ready to watch the most amazing fireworks. Happy 243rd Birthday America!
Photo by @Depotmsa